Saturday October 18, 2014
Pomegranate Family Tree
An old college friend of Laura's reached out to us for a surprise gift for her husband. They're love story is staggeringly similar to our own; English boy meets American girl, they fall madly in love and want to spend the rest of their lives together, it's perfect!
Abigail and Tristram are coming up on their first year anniversary (the paper anniversary) and we were asked to create a large family tree for them which incorporated elements from their sweet low-key English wedding that was filled with garden flowers and of course family.
There was so much inspiration to choose from here's a snippet of what Laura got to work with:
"We had loads of lilacs, garden flowers and some from the florist, pretty informal and just bright and spring-like. I was desperate for bright colors after a pretty grey English winter. There were yellow tulips and roses, purple irises and little white irises, forget-me-nots, those green round things that grow wild in England, wallflowers that went from pinkish purple to orangeish to yellow at the top. I went to a normal florist but also the supermarket and raided the mother-in-law's and neighbor's garden, and put them together myself the night before after everyone was asleep."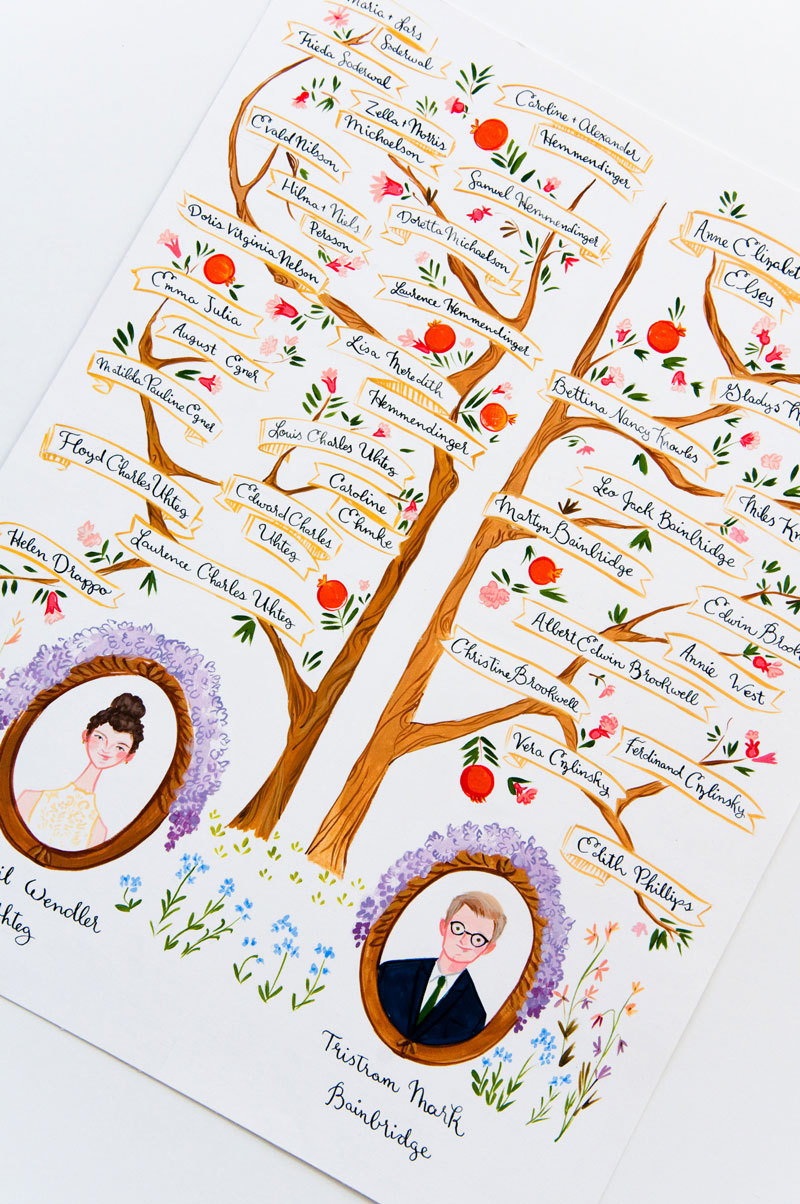 ←
→
More from the Jolly Edition Blog
October 2023's Projects
October 25, 2023
Perfect prints for fall found on the Jolly Edition Etsy shop! Starting with our "Oh my Gourd!" print.
September 2023's Projects
September 28, 2023
Colorful, playful, and supremely charming invite set for the lovely @mirgrowney !! Custom crest and hand lettered details are framed by sweet pops of colorful illustrated blooms. Such a blast to see the invites come to life when the details of the wedding are revealed. Photo styled and shot by the supremely talented @breewoollyphoto Thank you so much Read the rest.
August 2023's Projects
August 28, 2023
I'm so grateful any time a client shares their professional photos with me, thank you Anmyn! Photo credit: Katie Stroops, you genius! Another stellar St. Barths project. It feels beachy, it feels bright, it feels optimistic, and like the guests are having the time of their lives!
July 2023's Projects
July 25, 2023
Solveig and Joshua are absolute dream clients. They have the sweetest ideas and making designs for them just feels like how I felt playing as a kid. Luckily for all of us, their family has expanded and I got to design their announcement!
June 2023's Projects
June 27, 2023
Wow! Ida & Tim had the most stunning wedding! I'm so proud to show off this lettered invitation set with sweet floral frames. A favorite part of creating wedding stationery is that I get a little sneak peek of what's to come. I love introducing elements of the wedding before they ever materialize and then Read the rest.