Saturday October 18, 2014
Pomegranate Family Tree
An old college friend of Laura's reached out to us for a surprise gift for her husband. They're love story is staggeringly similar to our own; English boy meets American girl, they fall madly in love and want to spend the rest of their lives together, it's perfect!
Abigail and Tristram are coming up on their first year anniversary (the paper anniversary) and we were asked to create a large family tree for them which incorporated elements from their sweet low-key English wedding that was filled with garden flowers and of course family.
There was so much inspiration to choose from here's a snippet of what Laura got to work with:
"We had loads of lilacs, garden flowers and some from the florist, pretty informal and just bright and spring-like. I was desperate for bright colors after a pretty grey English winter. There were yellow tulips and roses, purple irises and little white irises, forget-me-nots, those green round things that grow wild in England, wallflowers that went from pinkish purple to orangeish to yellow at the top. I went to a normal florist but also the supermarket and raided the mother-in-law's and neighbor's garden, and put them together myself the night before after everyone was asleep."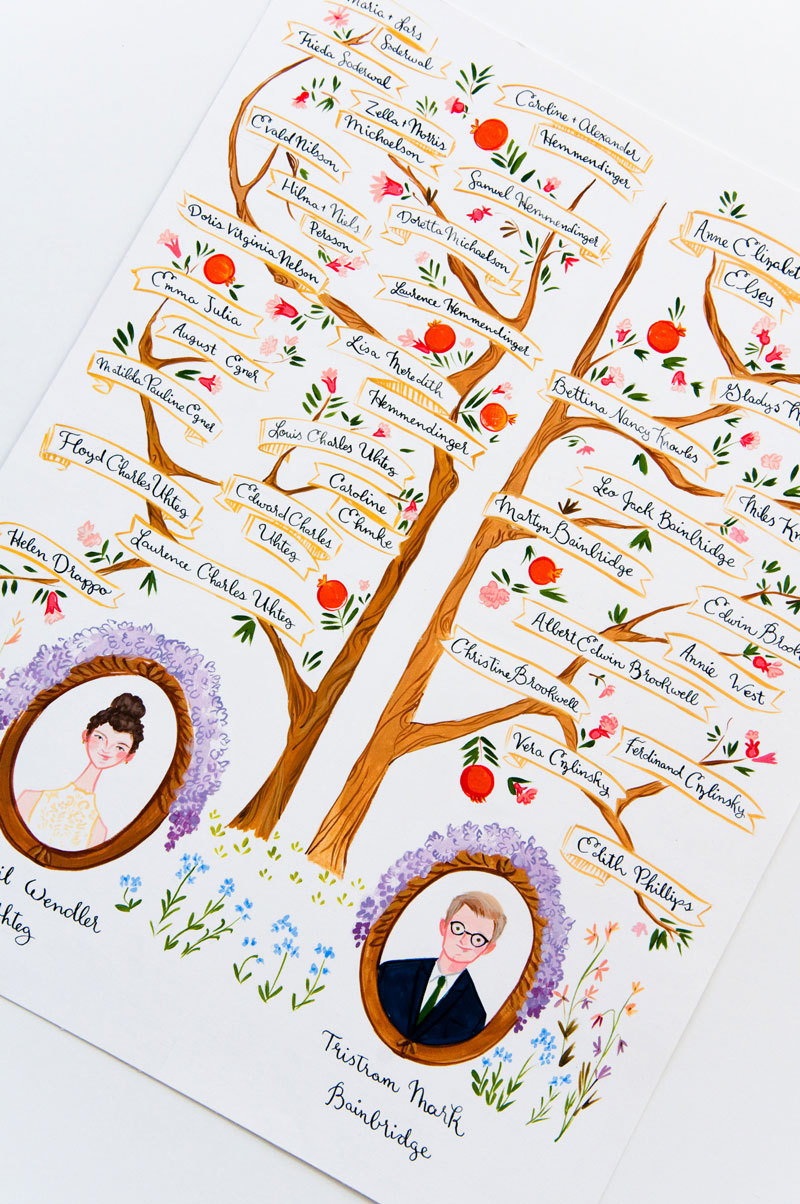 ←
→
More from the Jolly Edition Blog
April 2020's Projects
April 25, 2020
Lively, unique designs revive spirits during an otherwise dark time.
March 2020's Projects
April 1, 2020
Invitations, save the dates, and more maps in March.
February 2020's Projects
March 1, 2020
Kimberly and Malte are getting married in Mérida, Mexico. Click the link to see a quick video of their printed invitation. It's a square gate-fold invitation, the cover design features their wedding venue and opens to their wedding florals and information cards featuring a map of Mérida, and vignettes that illustrate where their guests will Read the rest.
January 2020's Projects
February 6, 2020
Starting the year off with some personal projects. Working with clients pushes me forward and keeps me on my toes. To keep up that momentum, sometimes I need to clear the cobwebs with projects that are unconnected with the expectation of client work to focus on play. Below are a handful of projects I've made Read the rest.
December 2019's Projects
January 7, 2020
Wrapping up our year with a retrospective featuring standout projects of 2019