Saturday October 18, 2014
Pomegranate Family Tree
An old college friend of Laura's reached out to us for a surprise gift for her husband. They're love story is staggeringly similar to our own; English boy meets American girl, they fall madly in love and want to spend the rest of their lives together, it's perfect!
Abigail and Tristram are coming up on their first year anniversary (the paper anniversary) and we were asked to create a large family tree for them which incorporated elements from their sweet low-key English wedding that was filled with garden flowers and of course family.
There was so much inspiration to choose from here's a snippet of what Laura got to work with:
"We had loads of lilacs, garden flowers and some from the florist, pretty informal and just bright and spring-like. I was desperate for bright colors after a pretty grey English winter. There were yellow tulips and roses, purple irises and little white irises, forget-me-nots, those green round things that grow wild in England, wallflowers that went from pinkish purple to orangeish to yellow at the top. I went to a normal florist but also the supermarket and raided the mother-in-law's and neighbor's garden, and put them together myself the night before after everyone was asleep."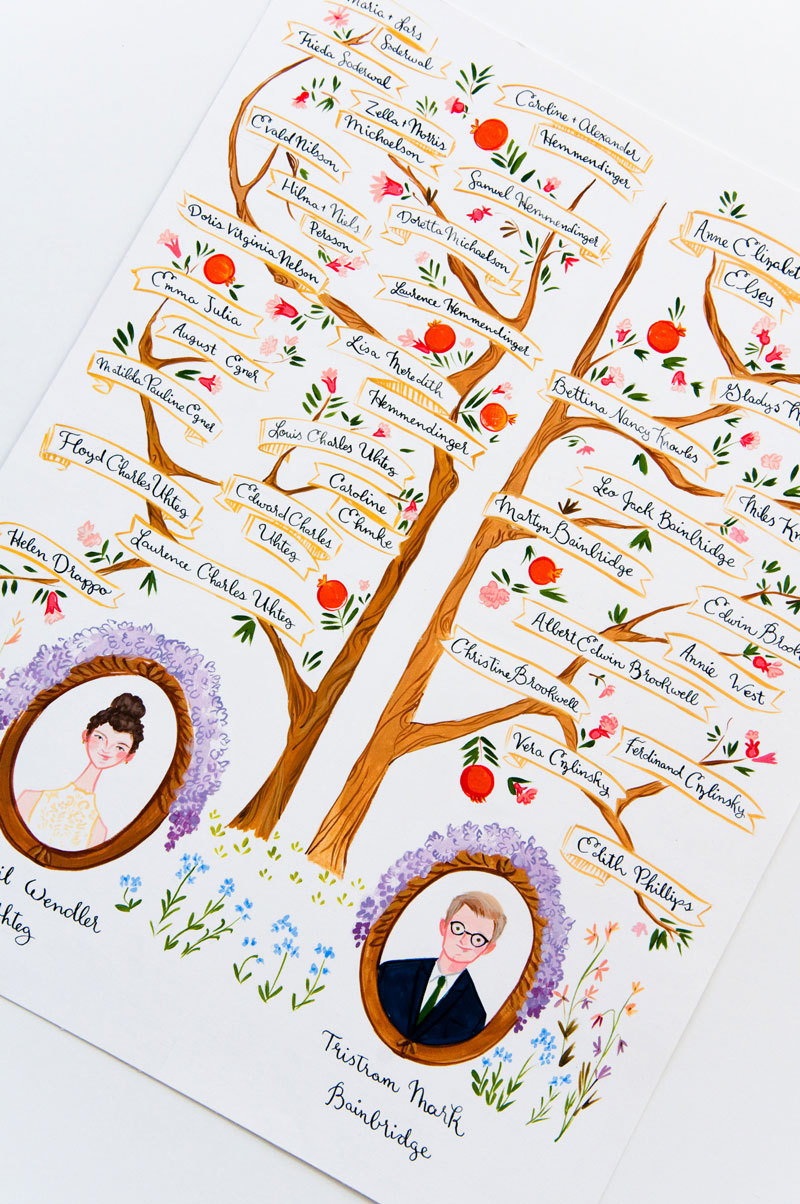 ←
→
More from the Jolly Edition Blog
December 2021's Projects
December 29, 2021
During my six weeks away from wedding stationery I wanted to reconnect with one of my first loves: painting. It felt great to engage with paint again, on large scale pieces, it was absolutely liberating. It's hard to describe the effect painting has on my brain: it's aggravating and healing all at the same time, Read the rest.
November 2021's Projects
December 12, 2021
After a very condensed, stressful and chaotic 2021 I needed a break. During November I decided to take on significantly less stationery commissions for my mental and emotional well being. It's my first vacation longer than a weekend since 2016 and it felt amazing to lift off that responsibility and to change context for a Read the rest.
October 2021's Projects
November 17, 2021
September 2021's Projects
October 17, 2021
August 2021's Projects
September 16, 2021